Meeting report
Open Access
At the frontiers of surgery: review
Head & Neck Oncology
2011
3:7
Received: 7 February 2011
Accepted: 9 February 2011
Published: 9 February 2011
Abstract
The complete surgical removal of disease is a desirable outcome particularly in oncology. Unfortunately much disease is microscopic and difficult to detect causing a liability to recurrence and worsened overall prognosis with attendant costs in terms of morbidity and mortality. It is hoped that by advances in optical diagnostic technology we could better define our surgical margin and so increase the rate of truly negative margins on the one hand and on the other hand to take out only the necessary amount of tissue and leave more unaffected non-diseased areas so preserving function of vital structures. The task has not been easy but progress is being made as exemplified by the presentations at the 2nd Scientific Meeting of the Head and Neck Optical Diagnostics Society (HNODS) in San Francisco in January 2010. We review the salient advances in the field and propose further directions of investigation.
Keywords
Optical Coherence TomographyOral Squamous Cell CarcinomaPhotodynamic TherapyVocal FoldOral Squamous Cell Carcinoma
Introduction
Optical technologies are being used not only to detect disease but also direct treatment (laser) and activate photodynamic therapy as well as in cases aid in the activation of nano-devices to deliver a therapeutic effect. We briefly outline some of the excellent evidence presented in the 2nd Scientific Meeting of the Head and Neck Optical Diagnostics Society (HNODS), (Figure
1
) in San Francisco in January 2010.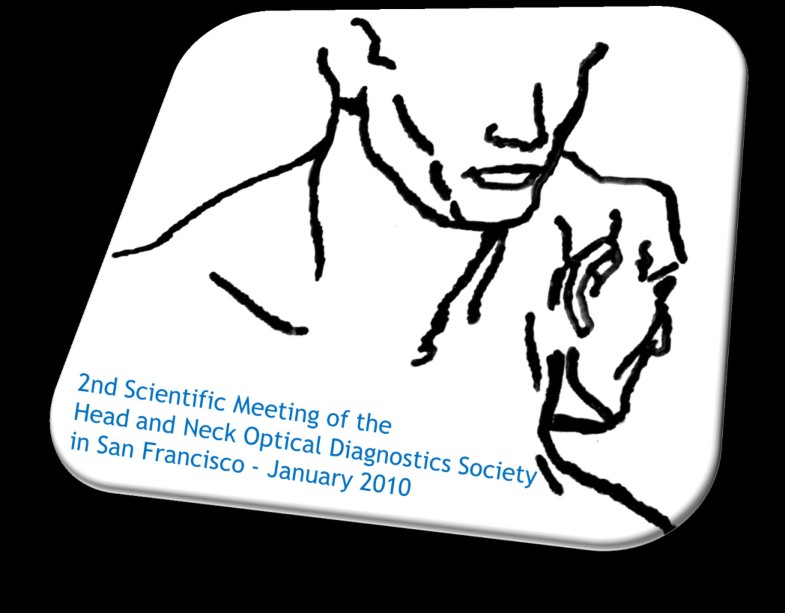 II. Therapeutic
The therapeutic use of optical techniques ranges from the direct use of optical wavelengths for delivering treatment to the use of light to specifically activate photo-chemicals to affect tumour lysis with minimal bystander tissue effects. Since many of these technologies are surgically or microscopically directed, the accuracy and resolution of the treatment volume far exceeds that obtained by radiotherapy.
Stepp & Betz showed the feasibility of semi-quantitative endoscopic guided perfusion measurements using ICG-angiographies in 25 patients with free-tissue transfer to the upper aero-digestive tract. The method was shown to be easy to perform with no adverse events. A method for simultaneous ICG-fluorescence and white light imaging was presented. The team suggested that the methodology was suited to situations with questionable flap vasculature Doppler signals, or when flaps are otherwise difficult to monitor [24, 25].
Direct use of optical technology
Lasers have been used by a number of researchers to close wounds in controlled laboratory tests over the last 15 years. Larson et al. presented their experience using a device to fuse tissue membranes as an alternative to sutures or staples for the coaptation of mucoperichondrial membranes. Coaptation is accomplished through the controlled application of laser heating to induce protein denaturation and subsequent renaturation across the interface. They identified the important parameters involved in fusing biological tissues using radiation from laser sources following computational modeling of the fusion process based on engineering first-principles from heat transfer, fluid dynamics and optics, and from experimental results on a particular tissue system [26].
An interesting application was presented by Fishman et al. Advancements in implantable auditory prostheses now demand preservation of residual auditory function following the surgery. Atraumatic cochleostomy formation is essential to this goal. Clinically reported hearing outcomes in human implantation are still quite variable in this regard. It was suggested that CO2 laser operated with a handheld hollow waveguide can consistently produce cochleostomies without damaging the residual auditory function. Fishman et al. demonstrated that for a careful selection of the laser's power, the safety range for the laser is superior to the safety range of drilling. Particularly important is the finding that multiple laser pulses through the same cochleostomy do not further increase the initial compound action potential (CAP) threshold elevation. Moreover, multiple laser pulses at different locations of the cochlea do not further increase the initial CAP threshold elevation observed after the first laser pulse [27].
Eustachian tube dysfunction is very common and is the predominant cause of otitis media with effusion. Negative middle ear pressure generated by Eustachian tube dysfunction can cause deformation of the collagen layer in the ear drum. Kaylie and Miller presented their findings after laser myringoplasty using the Omniguide hand-held flexible fiber CO2 laser in 22 patients which showed immediate hearing improvement and eardrum contraction [28].
CO2 trans-oral laser microsurgery (TLM) is an emerging technique for the management of laryngeal cancer and other head and neck malignancies. This technique has become more widely used by head and neck surgeons progressively replacing traditional open surgical procedures because it is better at preserving organ function with lower overall morbidity. The CO2 laser is coupled to a micromanipulator and microscope, which provides enhanced tumor visualization and the ability to perform precise tissue cuts, obtain excellent haemostasis, and avoid damaging the surrounding tissues and structures that are transected during open surgical procedures. Armstrong et al. reflected upon their decade of experience in TLM, they felt that the improved instrumentation, demonstration of oncologic effectiveness, clinical experience using TLM and decreased morbidity has led to an increased utilization of TLM by head and neck surgeons. Successful surgery requires adequate visualization, precise cutting, controlled depth of tissue penetration, and ability to obtain tissue haemostasis. The full spectrum of laser power settings, spot sizes and energy pulse delivery modes is utilized to resect mucosa, fat, muscle, connective tissue and cartilage while avoiding inadvertent damage to nerves and large vessels, and obtaining adequate haemostasis [29].
The use of CO2 laser in the management of oral dysplastic lesions has been put into practice for more than a few years now. The main advantage is the decrease in local tissue morbidity. Very few studies have evaluated recurrence, malignant transformation and overall outcome in patients undergoing such procedure. Jerjes et al. applied CO2 laser in a prospective study of 123 oral dysplastic lesions followed-up for 6.4 years. Recurrence and/or malignant transformation of oral dysplasia were observed following laser surgery. They recommended laser resection/ablation for oral dysplasia to prevent not only recurrence and malignant transformation, but also postoperative oral dysfunction encountered by other conventional modalities. The use of trans-oral robotic flexible CO2 laser with fluorescence and narrow band imaging control was commended [30].
The incidence of oral squamous cell carcinoma (OSCC) remains high. Oral carcinomas are the sixth most common cancer in the world. Squamous cell carcinoma of the oral cavity has a poor overall prognosis with a high tendency to recur at the primary site and extend to involve the cervical lymph nodes. Jerjes et al. followed-up 73 patients for 3 years in prospective study to evaluate the oncological outcomes following trans-oral CO2 laser resection of T1/T2 N0 OSCC. Tumour clearance was primarily achieved in 73 patients. Follow-up resulted in a 3-year survival of 87.8%. Recurrence was identified in 12% of the patients. The mean age of 1st diagnosis of the recurrence group was 76.4 years. Most common oral sites included the lateral border of tongue and floor of mouth. Recurrence was associated with clinical N-stage disease. The surgical margins in this group were also evaluated [31].
Vocal fold scarring can arise from disease or post-surgical wound healing and is one of the predominant causes of voice disorders. Focused ultrafast laser pulses have been demonstrated to create tightly confined sub-surface ablation in a variety of tissue, including vocal folds. Ben-Yakar et al. demonstrated how the unique ability of ultrafast laser ablation to create sub-surface vocal fold microsurgeries could be used for eventually creating a plane in tough sub-epithelial scar tissue into which biomaterials can be injected. They found that the use of relatively high repetition rates, with a small number of overlapping pulses, is critical to achieving ablation in reasonable amounts of time while still avoiding significant heat deposition. Additionally, they used multi-photon fluorescence of the ablation region and SHG imaging of collagen fibers to obtain visual feedback of tissue structure and confirm successful ablation [32].
Photodynamic therapy
Analogous to 3D dosimetry planning for radiotherapy attempts are being made to plan interstitial photodynamic therapy (iPDT), using multiple linear light sources positioned within the tumour. In an on-going feasibility study in the Netherlands, 16 patients with incurable SCC at the base tongue have been treated with iPDT as a last treatment option. Preliminary results are encouraging with a long-term complete response in 8 out of 16 patients who have failed standard treatment. There is strong evidence that the partial responders are a direct result of inadequate light delivery [33].
Accurate light dosimetry has not yet been performed during iPDT in the head and neck. van Veen et al. proposed the development of dedicated iPDT verification and planning technology to improve the clinical response and reduce the occurrence of side effects. Their results so far indicate good conservation of functions i.e. swallowing, and excellent local control of the tumour. Interstitial PDT may offer an excellent alternative or adjuvant for conventional treatment modalities [33].
Photodynamic therapy with m-THPC is an established treatment for superficial squamous cell carcinoma and is also being considered for treatment of larger head and neck tumors. Recently, clinical implementation of m-THPC-mediated PDT in the head and neck has not been optimal; a subset of patients has experienced incomplete response. It is well-understood that sufficient quantities of light, drug and oxygen must be present in the targeted tissue in order to deliver sufficient damage. This requirement is complicated by variations in the tissue optical properties and in the photo-sensitizer uptake rates; however, most clinical protocols do not measure the effect of these factors on the PDT dose delivered to individual patients [34, 35].
Kanick and de Visscher et al. described the use of optical techniques developed to monitor PDT treatments in pre-clinical models into the clinical treatment of head and neck cancer. Their techniques incorporated reflectance and fluorescence spectroscopic measurements into the PDT-treatment protocol. They found that spectral analysis allowed the extraction of m-THPC concentrations and the quantitative determination of tissue physiological parameters that are important to the PDT-delivered dose (i.e. blood volume and hemoglobin saturation). They described the practical and technical challenges of translating these techniques into the clinical setting [34, 35].
Photodynamic therapy, the fourth oncological interventional modality has proved its successfulness in the management of variety of pathologies involving the human body. University College London (UCL) researchers evaluated the outcome following ultrasound-guided iPDT of pathologies involving the head and neck region as well as the upper and lower limbs in 110 patients. Clinical assessment showed that more than half of the patients had "good response" to the treatment and a third reported "moderate response". Radiological assessment comparing imaging 6-week post-PDT to the baseline showed moderate response in half of the patients and significant response in 20% of patients [36].
Optical technologies can be used to activate therapy in a particular location directed by imaging modalities to improve co-location of therapy to disease states. Photodynamic therapy (PDT) is a minimally invasive surgical intervention used in the management of tissue disorders. It can be applied before, or after, any of the conventional modalities, without compromising these treatments or being compromised itself. PDT is valuable for potentially malignant disorders. Hopper et al. on a study of 147 patients showed that 5-ALA-PDT and/or mTHPC-PDT offer an effective alternative treatment for potentially malignant oral disorders. It is associated with excellent functional and cosmetic results and can be used in conjunction with other standard therapies [37].
Shafirstein et al. further showed the safety and efficacy of photodynamic therapy (PDT) in the treatment of oral leukoplakia with 5-aminolevulinic acid (5-ALA) and pulsed dye laser (PDL) confirmed with fluorescence diagnosis system. They determined that high power laser activation allowed completing the laser therapy within 1-3 minutes with a significant response in up to 46% [38].
Professor Biel presented an excellent account of the clinical application of photodynamic therapy for ENT cancers. Carcinoma of the larynx accounts for 25-30% of all carcinomas of the head and neck. Early carcinomas of the larynx (Tis or T1) and severe dysplasia are presently treated with either radiation therapy or surgery alone. Photodynamic therapy has been demonstrated to be effective in the treatment of early carcinomas of the larynx, Tis and T1, with cure rates of 90% with follow-up to 236 months. The advantage of PDT for early carcinomas of the larynx is the ability to preserve normal endo-laryngeal tissue while effectively treating the carcinomas. This results in improved laryngeal function and voice quality. Furthermore, PDT requires a short duration of therapy as compared to radiation therapy. PDT is repeatable and carries less risk than surgical therapy and is performed as an outpatient non-invasive treatment. Importantly, the use of PDT does not preclude the use of radiotherapy or surgery in the future for new primary or recurrent disease [39].
Within oro-pharyngeal oncology the management of base of tongue carcinoma continues to be a major challenge in head and neck oncology especially after chemo-radiation failure and the poor reconstructive prospects of total glossectomy with laryngectomy as the remaining salvage option. Without advances in pathological confirmation of previously irradiated fibrotic tongue base tissue the efficacy of robotic trans-oral laser resection is still unproven but very promising. Jerjes et al. evaluated the outcome following ultrasound-guided interstitial photodynamic therapy (US-iPDT) of stage IV tongue base carcinoma in 33 patients followed-up for 18 months. Their clinical assessment showed that two-thirds of the patients had "good response" to the treatment and a third reported "moderate response" [40].
Advances in diagnosis and therapy
Jerjes et al. also described their experiences with a phase I dose escalating study of photochemical internalization (PCI), which is a novel technology that facilitates the delivery of oncotoxic macromolecules into cytoplasm. The initial mechanism and practical application was described by Berg et al. in 1999. The group evaluated the safety and tolerance of the photo-sensitizer (amphinex) that is used to initiate the photochemical internalization process with bleomycin as the chemotherapeutic agent. The most striking finding was the dramatic tumour responses. The starting dose of Amphinex for the study was set at a level not expected to trigger a PCI response, however there appeared to be a localized synergistic effect with photo-activation [41].
It is now known that the presence of biofilms in the upper aero-digestive tract prevents the adequate treatment of infections because the infecting agents remain sequestered in an environment away from circulating or topical agents such as antibiotics. The treatment of these recidivist infections is difficult although the use of selected detergents has shown promise. An alternative treatment option is the use of PDT which was shown to be effective in vivo by Rhee et al. using H. Influenza biofilms with over 66% resolution of otitis media, one of the most common childhood diseases [42].
Naturally the next step in the utilization of optical technologies is in the shaping and control of nano devices. An innovative use of optical technology in the activation of nano-devices to promote chondrocyte growth across Ti:Sapphire Femto second laser microstructured titanium prosthesis coated with bioactive proteins was shown by Ilgner et al. to improve bio-integration and sound transmission [43].
In summary, we briefly outlined some of the excellent evidence presented in the 2nd Scientific Meeting of the Head and Neck Optical Diagnostics Society (HNODS) in San Francisco initially relating to disease diagnostics, including detection and guidance for biopsies and treatment and then focusing upon the therapeutic use of optical technologies either directly or by activating treatments.
Authors' Affiliations
(1)
The "Head and Neck Optical Diagnostics Society" Council, Head & Neck Centre, University College Hospital, London, UK
(2)
Department of Surgery, University College London Medical School, London, UK
(3)
Department of Otolaryngology/Head and Neck Surgery, Barnet and Chase Farm Hospitals NHS Trust, London, UK
(4)
Unit of Oral & Maxillofacial Surgery, Division of Maxillofacial, Diagnostic, Medical and Surgical Sciences, UCL Eastman Dental Institute, London, UK
(5)
Center for Optical Diagnostics and Therapy, Erasmus University Medical Center, Rotterdam, the Netherlands
(6)
The Beckman Laser Institute and Medical Clinic, The University of California Irvine, Irvine, USA
(7)
Department of Pathology, The University of Texas M.D. Anderson Cancer Center, Houston, USA
(8)
Department of Otorhinolaryngology, Plastic Head and Neck Surgery, Aachen University Hospital, RWTH Aachen, Germany
(9)
Department of Histopathology, Imperial College and The Hammersmith Hospitals, London, UK
(10)
Department of Oral & Maxilofacial Surgery, University Medical Center Groningen, the Netherlands
(11)
Virginia Piper Cancer Institute-Abbott Northwestern Hospital, Minnesota, USA
(12)
Department of Head and Neck Surgery, Division of Surgery, The University of Texas M. D. Anderson Cancer Center, Houston, USA
(13)
National Medical Laser Centre, University College London, London, UK
(14)
Center for Optical Diagnostics and Therapy, Department of Radiation Oncology, Erasmus University Medical Center, Rotterdam, the Netherlands
(15)
Department of Otorhinolaryngology, Head & Neck Surgery, Ludwig Maximilian University, Munich, Germany
(16)
LIFE Center, University Clinic Munich, Munich, Germany
(17)
Research Centre for Automatic Control (CRAN), Nancy-University, UMR CNRS, France
(18)
Michelson Diagnostics, 11A Grays Farm Production Village, Orpington, Kent, UK
(19)
Gloucestershire Hospitals NHS Foundation Trust, Gloucester, UK
(20)
Department of Biomedical Engineering, Beckman Laser Institute, University of California, Irvine, USA
(21)
Dept. of Radiation Biology, The Norwegian Radium Hospital, Montebello, Norway
(22)
Department of Oral & Maxillofacial Surgery, Tata Memorial Hospital, Mumbai, India
(23)
Department of Otorhinolaryngology, Head and Neck Surgery, Klinikum Bielefeld, Bielefeld, Germany
(24)
Department of Oral & Maxillofacial Surgery, Leeds Dental Institute, Leeds, UK
(25)
National University of Ireland, Galway, Ireland
(26)
Department of Bioengineering, Rice University, Houston, USA
(27)
National Cancer Centre, Singapore, Singapore
(28)
University of Sao Paulo, Sao Carlos, Brazil
(29)
National Research Council Canada-Institute for Biodiagnostics, Winnipeg, Canada
(30)
Division of Oncology, Lund University Hospital, Lund, Sweden
(31)
Department of Head & Neck Oncology & Surgery, The Netherlands Cancer Institute - Antoni van Leeuwenhoek Hospital, Amsterdam, the Netherlands
(32)
Division of BioPhysics and BioImaging, Ontario Cancer Institute, Ontario, Canada
(33)
Department of Medical Biophysics, Faculty of Medicine, University of Toronto, Toronto, Canada
(34)
Division of Gastroenterology and Hepatology, Mayo Clinic, Florida, USA
(35)
Department of Biomedical Engineering, Electrical & Computer Engineering, Physics, Boston University, Boston, USA
(36)
Physics and Astronomy, University of Pennsylvania, Philadelphia, USA
Copyright
© Upile et al; licensee BioMed Central Ltd. 2011
This article is published under license to BioMed Central Ltd. This is an Open Access article distributed under the terms of the Creative Commons Attribution License (http://creativecommons.org/licenses/by/2.0), which permits unrestricted use, distribution, and reproduction in any medium, provided the original work is properly cited.